The TALENTBRÜCKE software is a solution for the definition and evaluation of potentials, competencies and talents in personnel selection for applicants, in personnel development and career preparation.
The evaluation of psychometric test procedures and other instruments for talent assessment (such as structured interviews, assessment observations, etc.) is usually very complex. For many users, time savings and the validity of the results do not outweigh the time-consuming evaluation.
The TALENTBRÜCKE – Software addresses this issue and dramatically simplifies the use of psychometric testing procedures. Only the determined values have to be entered, everything else is done by the software.
The automated evaluation takes place at the push of a button and a clearly arranged, professionally designed result report is created.
TALENTBRÜCKE – Software Application
Using the TALENTBRÜCKE software is extremely easy and user-friendly.
The TALENTBRÜCKE – Software is an offline application that can be installed locally on any number of computers. The evaluations are made possible and controlled via a transparent licensing system. The application can be installed and used in German, Spanish and English.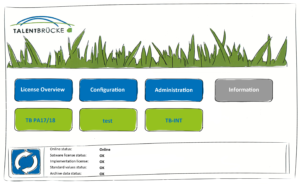 In a first step, participant data is inserted into the so-called "dashboard" of the software. This can be done for individual persons as well as via a mass import via Excel.
As soon as participant data has been imported and data records confirmed, input of the values determined can begin and a meaningful, structured results report can be generated.
Which tests and procedures are available to you after the import depends on the selected usage model. As a premium user, you can compile individual procedure sets from any number of test procedures yourself. As a basic user, you have access to a standardized test set that has been tailored to your needs.
After the practical execution of the tests and procedures, the values determined are entered via input masks; user-friendliness and simplicity of operation are in the foreground.
In the following the input mask of the TALENTBRÜCKE – Career Interest Survey is shown as an example.

After entering all tests and procedures per participant, results reports are generated with two to three clicks. The automatic creation takes place within the shortest time and adapts to a previously created template. This results in a result report adapted to individual needs, which can be used directly afterwards for further work steps. The documents only have to be printed and are therefore available for immediate use. As a result, there is no loss of time in the further course of your selection process or potential analysis.

The TALENTBRÜCKE software has low minimum requirements for the computer system:
System: 1.6 GHz or faster processor, at least 4 GB RAM, DirectX 9-compatible graphics card with a resolution of 1024 x 768 or higher
Online capability of the system
at least Windows 7 operating system (preferably 64bit system. 32bit systems are also supported)
Microsoft Office 2007 or higher
The TALENTBRÜCKE – Software is used and continuously developed by the TALENTBRÜCKE team in various fields of application. Extensions, changes and adjustments are made automatically as updates and benefit all users.
In addition to the presentation in a results report, results can also be exported to enable benchmarking in an easy way. For this purpose, the TALENTBRÜCKE software provides an add-on module which allows you to create your own standard groups and compare participants against predefined profiles or with each other.
Thus, the possibilities and the usability of the TALENTBRÜCKE – Software are extended many times over.
All advantages of the TALENTBRUECKE software at a glance.
Take the opportunity to test the TALENTBRÜCKE software free of charge and without obligation or simply contact us personally.
TALENTBRÜCKE – Software – Ihr Ansprechpartner