TALENTBRÜCKE – Software – Two usage models for your needs and purposes!
There are two different user variants for using the TALENTBRÜCKE software:
Basic user (pre-configured test settings)
Premium user (variable, multiple, individual test settings)
The following figure gives an overview of the possibilities and application areas of the two users.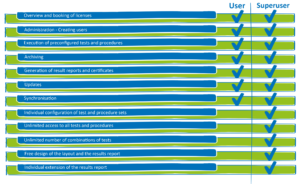 The basic user
The basic user is the simple user of the TALENTBRÜCKE – Software. It is particularly suitable for the use of individual test procedures or the combination of two procedures of the TALENTBRÜCKE. This is the case, for example, if you integrate individual TALENTBRÜCKE test procedures into your processes and sets. The user has all rights to perform and evaluate pre-configured test procedures and test sets with the software. For users who repeatedly perform the same test setting with a maximum of two psychometric test procedures or who only want to use a single test to supplement their own procedure, this is the suitable license model.
Der Premiumuser
The premium user also has all rights to carry out and evaluate test procedures. As a premium user, you also have the option of freely combining the test procedures available to you in so-called process sets for a specific purpose. You can set them up individually for all your users and make them accessible. As a premium user you have access to all available test procedures and exercises of the TALENTBRÜCKE. Depending on the intended use, certain test procedures can be selected, recombined and carried out over and over again. The result evaluation can also be adapted individually.
With this licensing model, there are many different possibilities of software use, individually adapted to your needs. This model of the application therefore always offers the right solution for your problem if you want to use several psychometric procedures in different areas of application!
The billing model
The utilization model of the TALENTBRÜCKE – Software is simple: You only pay for what you use. Settlement takes place for each attendee for whom you create an evaluation.
We would be happy to provide you with more information on our licensing model and the associated costs. Please contact us!
Utilization model – your contact person