The TALENTBRÜCKE – Inventory of professional key competences is a self-assessment tool for job-related personality traits. It is explicitly aimed at adults with work experience.
The questionnaire covers the following eight dimensions based on a total of 64 items:
Ego stability
The  Ego Stability scale measures how well people are able to adapt to environmental conditions and adapt their reactions.
Professional self-efficacy
Professional self-efficacy is understood as the assessment of one's own abilities which are required in order to be able to fulfil professional requirements. This is an individual conviction that arises depending on a person's previous learning experiences.
Willingness to perform/motivation
The performance motivation scale covers the candidate's individual demands on his or her own performance and the motivation to continuously improve his or her performance.
Service orientation
The service orientation scale covers a person's ability to support, serve or advise others, to put their own needs on hold and to devote themselves entirely to their counterparts.
Awareness of responsibility/reliability
A sense of responsibility means the ability to assume and carry responsibility for oneself or other persons or objects or tasks. Reliability is the ability to act carefully and conscientiously.
Communication ability
Communication skills are the ability and willingness to communicate with other people, to establish and maintain contacts with them.
Conflict ability
The conflict ability scale encompasses the ability to conduct a conflict constructively and to counteract unnecessary conflicts in advance.
Capacity for teamwork
The ability to work in a team scale provides information about whether a person enjoys working on a task together with others. The prevailing attitude towards teamwork is recorded and whether the candidate sees obstacles to being able to integrate into a team.
All essential information in our brief overview (PDF file).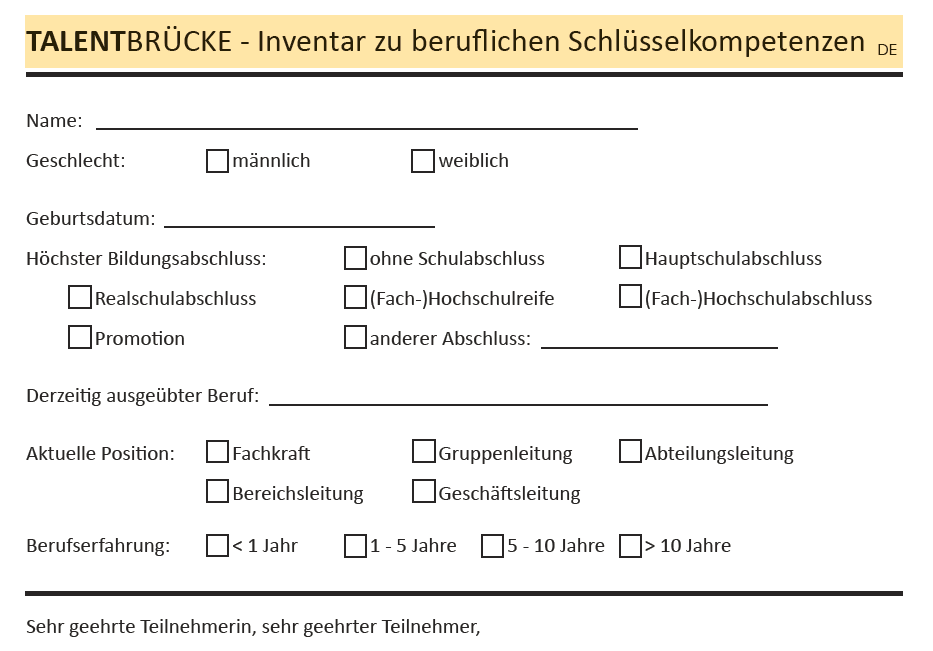 You receive the TALENTBRÜCKE – Inventory of Key Professional Skills for the price of 2,00 € (net) per sheet. The evaluation is carried out with the TALENTBRÜCKE – Software.
TALENTBRÜCKE – Inventory of professional key competences – Your contact person