Distribution of psychological test procedures via TALENTBRÜCKE
Use the test distribution of TALENTBRÜCKE GmbH & Co. KG. We make the distribution of psychological test procedures profitable for you.
You are developing a psychological test procedure or an exercise that needs to be evaluated? You want this test procedure to be available to everyone? You cannot or do not want to take over the distribution yourself?
Then the offer of TALENTBRÜCKE is just right!
Test distribution for your test or exercise
The TALENTBRÜCKE software offers the possibility to include every psychological test and every exercise. All that is required is to program the respective evaluation logic and integrate it into the software. Together we prepare everything for this programming. To this end, we use the basis you have developed.
We develop the optical design of the test procedures in close cooperation with you. After that, we'll take over completely. You do not have to worry about printing and shipping. Test distribution is also our task. You will be convinced by our speed and the fair conditions.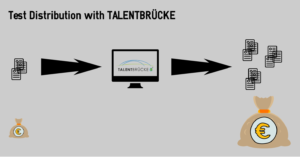 Advantages of test distribution with the TALENTBRÜCKE
Fast and uncomplicated implementation
Fair conditions
Tests and exercises are made available to all customers of TALENTBRÜCKE
Let us convince you. Talk to us!
TALENTBRÜCKE – Test Sales – Your contact person